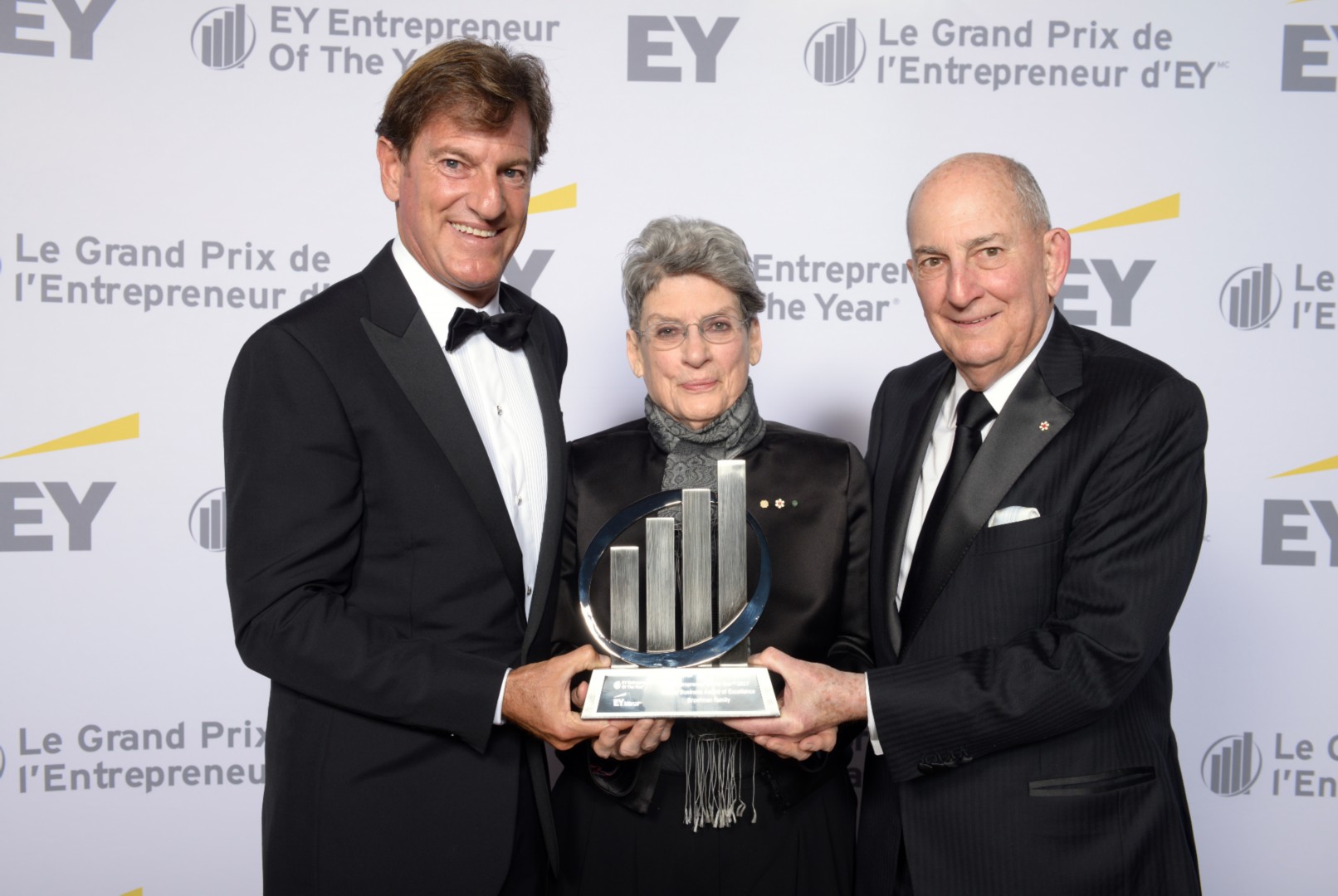 (Montréal, 27 September 2017) The Bronfman family has been a notable fixture in Montreal's business and philanthropy circles for close to a century. From Joseph E. Seagram & Sons Inc. to Claridge Inc., which carries on the family tradition of investing in entrepreneurs, the family has had an indelible impact on Canada. The Bronfmans will be recognized with the Family Business Award of Excellence at the EY Entrepreneur Of The Year gala on 9 November 2017 in Montréal.

"Living in Montréal, it would be hard not to know the Bronfman name," says Daniel Baer, Entrepreneur Of The Year Québec program co-director. From the first generation to today, the family has played a key role in helping grow the Montréal, Québec and Canadian economies. And the family has dedicated just as much to charitable giving as it has to investing in business. Their generosity is unparalleled."

"Selecting Montréal's Bronfman family for this year's award was simple," says Luc Charbonneau, Entrepreneur Of The Year Québec program co-director. "They've been leading supporters of the Canadian entrepreneurial ecosystem not only through their own family business, but also through their investments in chemicals, real estate, food, technology and entertainment."

It all began with Samuel Bronfman, who started the Distillers Corporation Limited in 1924, which later became the Joseph E. Seagram & Sons Inc. The family built up Seagram's, as it was known, to become one of the largest distillers of alcoholic beverages in the world. Then, second-generation Charles Bronfman started the Claridge Investment Fund, dedicated to searching for and investing in promising ventures in Canada and abroad.

Since day one, philanthropy was a priority for the Bronfman family. In 2012, Charles committed to giving the majority of his wealth to charity by signing the Giving Pledge. Through various philanthropic initiatives, Charles has supported causes aimed at promoting Canadian heritage, Jewish life and education.

In 1968, Charles left an indelible mark on the sports landscape by securing the rights to the first-ever Major League Baseball franchise in Canada, the Montreal Expos. He was the majority owner of the franchise for 23 years. The retro tri-coloured Expos logo remains ever-present on the streets of Montréal and across North America to this day.

Now it's Stephen Bronfman, Charles's son, who continues the multi-generational family's tradition of investing in entrepreneurs and giving back nationally and internationally through the Claudine and Stephen Bronfman Family Foundation. With a strong focus on Montréal, the Foundation prioritizes empowering emerging talent, as well as initiatives dedicated to environment, culture, education, entrepreneurship and Jewish life.

Stephen Bronfman will accept the Family Business Award of Excellence at the EY Entrepreneur Of The Year Québec gala on 9 November 2017.

For more information about the awards gala or to purchase tickets, please contact Josée Rioux at 514 874 4471 or josee.rioux@ca.ey.com

For event updates, visit us at ey.com/ca/eoy or follow us on Twitter @EYCanada and use #EOYQuebec to join the conversation.

About EY Entrepreneur Of The Year™
EY Entrepreneur Of The Year™ is the world's most prestigious business awards program for entrepreneurs. The program makes a difference through the way it encourages entrepreneurial activity among those with potential and recognizes the contribution of people who inspire others with their vision, leadership and achievement. As the first and only truly global awards program of its kind, Entrepreneur Of The Year celebrates those who are building and leading successful, growing and dynamic businesses, recognizing them through regional, national and global awards programs in more than 145 cities in more than 60 countries. ey.com/eoy

The 2017 Québec independent judging panel consists of Anne Darche, President, Pertinence Inc.; Marie-Anne Tawil, President and CEO, Iron Hill Investments Inc.; Andrew Richardson, President, Targray; and Jacques Foisy, President and Managing Director, Novacap.

This year's program national sponsors are TEC Canada, La Presse, RDI, The TMX Group, The Globe and Mail Inc., Merrill Corporation, Kira Talent, Air Canada, SheEO, The Printing House Limited and Hillberg & Berk. Québec regional sponsor is Captivate Network.

About EY
EY is a global leader in assurance, tax, transaction and advisory services. The insights and quality services we deliver help build trust and confidence in the capital markets and in economies the world over. We develop outstanding leaders who team to deliver on our promises to all of our stakeholders. In so doing, we play a critical role in building a better working world for our people, for our clients and for our communities.

EY is proudly celebrating 150 years in Canada. Back...